Lares trek & machu picchu 4 days 3 nights
Our great adventure to Lares trek shows the geography of the Cusco region comprises a complex surface, from warm valleys impressive mountains to the dazzling snow. Today there are various walks, to know these wonders cultures that has trek lares, using mostly roads used by the ancient inhabitants of the Andes who dominated without difficulty geography.
The tour program, walk 4 days and 3 nights Lares to Machu Picchu is an excellent way to know the Andean landscape, with valleys, rivers, lagoons of crystal clear waters, waterfalls, forests and to know the way of life in the communities, besides the excursion in the Andes, the program connects with the visit to one of the wonders of the 7 new wonders "Machu Picchu".
This road was formerly used by the Inca Culture; They used these roads to transport food and also to carry messages to different peoples. At that time only the South American domestic camelids had the most used were the Llama and the Alpaca. The Llama is more used as transport but they could only carry 20 kilos and the Alpaca is used for clothing and food. In these valleys you can still observe people who follow the customs of their ancestors. During the route of this route we can see thermo-medicinal baths, lagoons, mountain chains, cloud forests, rivers, snow-capped mountains and a variety of birds and plants. The highest point of this hike is the Abra de C'asa Pasa (4500 m / 14,763 ft), it will be an unforgettable adventure.
| DURATION: | 4 Days - 3 Nights |
| --- | --- |
| TIME: | Departure 05:00 (1st day) - return 20.00 (4th day) |
| TRIP STYLE: | Cultural Walks |
| MINIMUM GROUP: | 2 people |
| DEPARTURES | Daily |
 We pick up from your hotel in our tourist transport at 5:00 – 05:30 to start the tour to Lares Trek. It will be a trip of approximately three hours along the beautiful landscape of the Sacred Valley and through the Andes, until you reach the Lares Hot Springs site, where you will have your first breakfast accompanied by breathtaking views of the Andes mountains. Then you can enjoy the hot springs, which are divided into several groups ranging from freezing cold to boiling. All of them are composed of pure volcanic water, which is natural medicine and considered healing for bones, muscles, stress, headaches. After relaxing in the thermal baths for a while, we continue with our trip for 20 more minutes to start the trail, Punta Carretera at 3,300 m / 10,827 feet above sea level. It is here where you will meet your horses and riders. You will give your canvas bags to the riders to be transported to the campsite. Then start your expedition to Machu Picchu. To begin with, it will be two hours, gradually rising uphill, until we reach our lunch spot in the first village, called Kiswarani. This section of the walk is considered the sector of the potato valley, where people are grown many varieties of organic potatoes. Our lares trek guide will help you point out some very important indigenous medicinal plants that grow along the way. Then, we will arrive at our first lunch place, where you can enjoy your first delicious meal prepared by our chef on the route. After a good nap, we will be ready to explore the village and visit some local houses, where you will learn about the ancient traditions of lifestyle and the local population. If there is time, we will visit the school where the children speak Quechua and the inhabitants the cutest language of Cusco, their native language of the place, If you wish, you can bring some toys, notebooks or any kind of school material to share. Maybe you can even teach them some words in English or another language. It will be another two hours, gradual, uphill until you reach the campsite, where you will be received by our tracking staff, who will have their tents set up. Let's enjoy some hot drinks like mate de coca or muna, as the sky darkens and the stars begin to appear.  Our trek guide will take you to a specific place to enjoy the magnificent view of the sky, and we will learn about the Inca constellations, which were studied carefully by the Inca people, to learn about the seasons of the year and to help them in your planting of products. You can use our telescope to observe the Inca constellations, such as the Chakana (Southern Cross) cosmic constellation, Orion and many others. Finally, you can enjoy a delicious dinner prepared on site. If you want to keep stargazing, you can keep it for a longer time or, if you prefer, you can activate it in your tent.
Hiking distance:

10 km / 1.2371 miles

Lifting field:

3,850 meters: / 1,231 feet

Cold weather
This day you will wake up around 5 am, with our hot drinks service. You will have stunning views of the lake and colorful the Kiswarani valley. The local people will already be on their feet, having their llamas and alpacas to graze. Breakfast will be served as soon as you finish packing your luggage. Next, we will fill our water bottles, arrange snacks and start the most memorable day of your expedition to Machu Picchu. It will be a three or four hour hike to reach the top of the mountain. This pass is called, Condor Pass. We are going to zigzag our way to compensate for the steep climb. The views of the area are impressive. You will see lakes, waterfalls, llamas, alpacas and. We will have an emergency horse to ride in case you are tired. Once you reach the Condor Pass you will be above the clouds, above the mountain peaks and the 360 degree views of the surroundings are stunning. In front of you will be the majestic Pitusiray mountain, which is at 5,700m / 18,700ft, and the Cóndor pass is at 4,680m / 15,354ft. Next, we will enjoy the service of hot drinks that your porters will take with them. We're going to take some great photo opportunities, and start the descent. You will start walking downhill, towards El Mirador (Point of View), where you can enjoy a lunch. There maybe there will be some llamas that graze nearby. After lunch, there will be an excursion the last three hours of descent, with fantastic views of many lakes, llamas and alpacas, before reaching your camp, the village of Cancha Cancha, which is the only town that does not have modern technology . Cancha Field is a town (3,750 m / 12,303 feet), where people still practice real traditions of the Incas. In this Inca village, 85 percent of the houses are built with original materials, old construction, stone, with thatched roofs. Unlike any other town in the Lares valley, where this town has no electricity or cars. Here, you will not only enjoy nature, but your porters will also set up your tents. You will have a little time to meet with the children of the locality. We provide them with food and school supplies, so we invite travelers to share this support in the education and health of this Andean people. You can join us and bring something you would like to complement the lives of these Quechua-speaking children. Following, your guide will take you to one of the houses of the local family, where you will learn about the way of life of the local inhabitants. You can see how they raise their guinea pigs, and you will learn about traditional textiles, hand woven, made of llama wool and alpaca. This is the best day of your walk. At night you can enjoy dinner.
Hiking distance:

14 km / 8 miles

Elevation field:

3,750 meters / 12,303 feet

Cold weather  
Our porters will help you get up with a hot drink and you will have some time to pack your bags and enjoy the rich breakfast. After breakfast, you will have time to explore the village and visit the local primary school, where the ancient language of the Incas, Quechuas, are still spoken in the communities. Once you are ready, you will begin the last stage of your Lares trip. It will be four hours of walking downhill, along this beautiful route, which will go through more llamas and alpacas. We will go through the farms where potatoes, beans, and many other traditional tubers are grown, in the traditional Inca style. This is a great opportunity to learn about Peruvian agriculture, because people still cultivate by hand with traditional agricultural tools, Inca. Now, let's start descending to the hottest area, the sacred valley. You will begin to feel the microclimate changes and begin to see the crops that are different from the high mountains. Around the Sacred Valley of the Incas, like, corn, quinoa, kiwicha, peaches, avocados and other types of fruits. Of course, this area has a lot of Inca history. You will finish the tour in the small town of Huaran, in the Sacred Valley, at 2,700 m / 8,858 feet, where you will bid farewell to your horses, riders, cook and porters, as we will return to your homes.
From Huarán, we will take a car and make the short trip to the valley to visit Las Salineras, in the town of Maras. Here, at 11,000 feet above sea level, a spring of salt water gushes and spills down the mountainside. More than 3,000 small evaporation chambers have been created and look as if they are falling down the side of the mountain. These have been in use since pre-Inca times. Salt is said to have healing properties because it is loaded with natural minerals, some of them even come out pink. The local families own each of these pools, and they make their salt by supplying the towns of the area. There is a small store in the place, if you want to buy salt.
After visiting Salineras, we will get on board the van for a 45 minute drive, which runs along the Sacred Valley to Ollantaytambo. Ollantaytambo is the only living being, intact Inca town. It still has many Inca water canals, houses and walls. Your guide will take you around to see this little town until it's time for dinner, which will be at a local restaurant. Then we will take the train from 7 PM to Aguas Calientes, the town at the foot of Machu Picchu (train schedules may vary, depending on availability). Upon arrival in Aguas Calientes, you will be checked in at the hotel and relax.
Short distance:

9 km / 6.2 miles

Hot water elevation:

200 m / 6,562 feet

Time:

cold in the morning, colido in the afternoon
The fourth day is the most magical day because I finally visited Machupicchu. You wake up early to walk up or take a bus ride up to Machu Picchu. You will see the sunrise, over the Citadel of Machupicchu. Your guide will take you to an informative two-hour visit. Subsequently, you will have time to explore on your own. In the afternoon, you can board the train back to Ollantaytambo, followed by a bus back to Cusco, where we will transfer you to your hotel.
Important Note: We always do our best to follow the fixed itinerary, however it may change from time to time based on temporary weather and park restrictions, camping availability, weather, road closures, guest capacity / injuries and natural events such as fires and floods.
You can choose one of these 03 options of rates expressed in USD – USD per person:
EXECUTIVE TRAIN
Hotel 2
TRAIN VISTADOME
Hotel 3
TRAIN VISTADOME
Hotel 4

Shared service (groups of 25 people)

Shared service (groups of 15 people)

Private service (minimum 02 people)

USD 480.00

USD 545.00

USD 735.00
ADDITIONAL ITEMS TO THIS TOUR
Huayna Picchu is the mountain that rises next to Machu Picchu. It is a 45 minute walk to the top. While this walk is done on your own, your guide will direct you to where this walk begins. This is an additional entrance ticket that we can assure you in advance The value of the ticket is 20 USD
Machu Picchu mountain is the other mountain that sits on the ruins of Machu Picchu. It offers even more impressive views than Huayna Picchu, but it takes an hour and a half to get to the top. This is an additional entry ticket that we can insure for you. The value of the ticket is 20 USD
Each excursion needs for the alternative Inca roads a sleeping bag, when camping, inflatable air mattresses and walking sticks (rubber tips) are optional. They are available to rent.
The sleeping bag value is USD 20
The value of the inflatable Matra is 20 USD
The value of the cane is USD 20
Indio Feliz Restaurant in Aguas Calientes(Machupicchu pueblo) Tunupa Restaurant (Urubamba) The power value is 30 USD
APPLY FOR THE TREKS TO MACHU PICCHU
The reservation of hotels and trains is subject to space availability.
The cost of the tour packages is based on two people and double room. For an individual room you have to pay extra:
For more information you can write to us at info@chaskatravelperu.com
Foreign tourists  with valid university card get a discount of 20% of the cost of the excursion.
Special discounts for groups more than "05 people" For more information write to us info@chaskatravelperu.com
Please complete the form below to request a reservation. One of our Trip Coordinators will contact you, often within two business hours, to confirm availability of the trip and/or provide you with other options. Once availability is established, we will ask for a deposit and a completed online registration to confirm your spot Please call us at (+51) 974401722 with any questions or to confirm availability over the phone.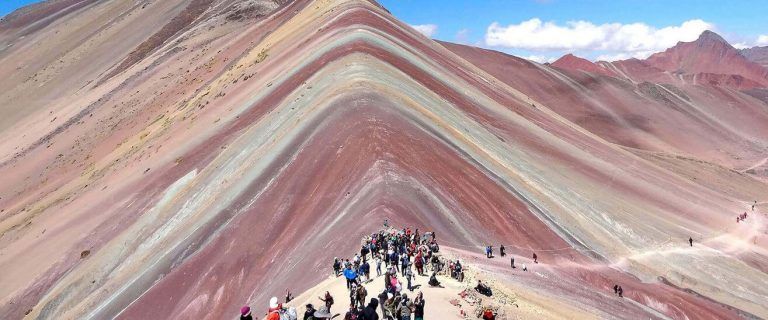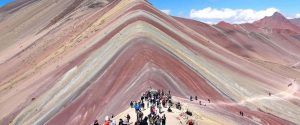 Rainbow Mountain Tour 1 Day Cusco – Cusipata – rainbow mountain Home The Rainbow Mountain, known as the 7-color mountain,
Read More »
Viajei com um grupo de amigos brasileiros até o Peru por 10 dias e contratamos esta agência: pacote completo, passeios e translados. Tudo ocorreu muito bem.
Gostaria de agradecer ao Luis da Chaska Travel pelo excelente atendimento e dedicação. Ótimos passeios que valeram muito a pena! Realizamos o tour a Maras e Moray, com paisagens lindas e singulares.
O atendimento proporcionado pelo ... contribuiu para a constante alegria na nossa viagem. Muito obrigada pela atenção especial. Queremos voltar. Um abraço.
Eu conheci Luis de alguns amigos que visitaram Cusco, eu estive com minha família e decidi visitar alguns lugares e ele pegou do aeroporto com um sorriso radiante.