machu picchu from ollantaytambo 2 Days 1 Night
Explore one of the 7 wonders of the world with our guides of the place, time and strength that contains the most important place the Inca citadel … Machu Picchu, know the jewel in architecture, a citadel that went unnoticed for centuries, contemplate also the beauty nature in the middle of the Selva eyebrow and you will be able to appreciate the variety of flora and fauna of the area you will also be able to observe impressive mountains around Machu Picchu and you will be able to take the best photographs of the place, where the town of Aguas Calientes is located, Enjoy your thermal go
| DURATION: | 2 Days - 1 Night |
| --- | --- |
| TIME: | Departure 10:00 a.m. (1st day) - return 20:00 p.m. (2nd day) |
| TRIP STYLE: | History & Culture |
| MINIMUM GROUP: | 2 people |
| DEPARTURES | Daily |
According to the coordinated time, our tourist transport will pick you up from your hotel to transfer you for 2 hours to Ollantaytambo train station and this train will take you for 1 hour and 40 minutes to Machupicchu Pueblo also known as Aguas Calientes, arriving at the station from this place our hotel transfer would be waiting to take you to your installation. You have all the afternoon to know the town of aguas calientes or visit the hot springs, eat, etc. You will be previously informed of the time at which your professional guide will visit you at your hotel so that they can give you the best recommendations on your guided tour the next day. Overnight at your selected hotel in Aguas Caliente village.
According to the time coordinated with your professional guide, you will be looking for your hotel to go up to Machu Picchu and have your guide from 2 hours to 2 and a half hours. After your guided tour you will have a free time for 4 hours at 5 hours approx. to continue touring Machupicchu on your own and then to go down to the town of Aguas Calientes in a tourist bus for 30 minutes, after having enjoyed one of the 7 wonders of the world.
In the afternoon or evening it would be your return being your possible train from 18:20 or earlier, it will depend on the availability. The train will leave from Aguas Calientes to the train station of Ollantaytambo, there our transfer will wait for you with your name of the indicated person to return you to the city of Cusco on a tourist bus.
You can choose one of these 03 options of rates expressed in USD – USD per person:
| 01 | EXECUTIVE TRAIN (economic class) | USD 340.00 |
| --- | --- | --- |
| 02 | TRAIN VISTADOME (first class) | USD 365.00 |
| 01 | EXECUTIVE TRAIN (economic class) | USD 390.00 |
| --- | --- | --- |
| 02 | TRAIN VISTADOME (first class) | USD 455.00 |
| 01 | EXECUTIVE TRAIN (economic class) | USD 550.00 |
| --- | --- | --- |
| 02 | TRAIN VISTADOME (first class) | USD 620.00 |
ADDITIONAL SERVICES TO THIS TOUR
Huayna Picchu is the mountain that rises next to Machu Picchu. It is a 45 minute walk to the top. While this walk is done on your own, your guide will direct you to where this walk begins. This is an additional entrance ticket that we can assure you in advance The value of the ticket is 20 USD
Machu Picchu mountain is the other mountain that sits on the ruins of Machu Picchu. It offers even more impressive views than Huayna Picchu, but it takes an hour and a half to get to the top. This is an additional entry ticket that we can insure for you. The value of the ticket is 20 USD
Indio Feliz Restaurant in Aguas Calientes(Machupicchu pueblo)  The power value is 30 USD
APPLY ONLY FOR TOURS BY TRAIN TO MACHUPICCU 02 DAY
The train reservation is subject to space availability.
The cost of the tour packages is based on two people.
For more information you can write to us at info@chaskatravelperu.com
Foreign tourists with current university card get a discount of $ 20.00
If you wish to opt for the shared service, tour (means that it is open for other travelers to join you on your excursion) you will receive a 15% discount on any train tour to Machu Picchu
Special discounts for groups of more than "05 people" For more information write to info@chaskatravelperu.com 
Please complete the form below to request a reservation. One of our Trip Coordinators will contact you, often within two business hours, to confirm availability of the trip and/or provide you with other options. Once availability is established, we will ask for a deposit and a completed online registration to confirm your spot Please call us at (+51) 974401722 with any questions or to confirm availability over the phone.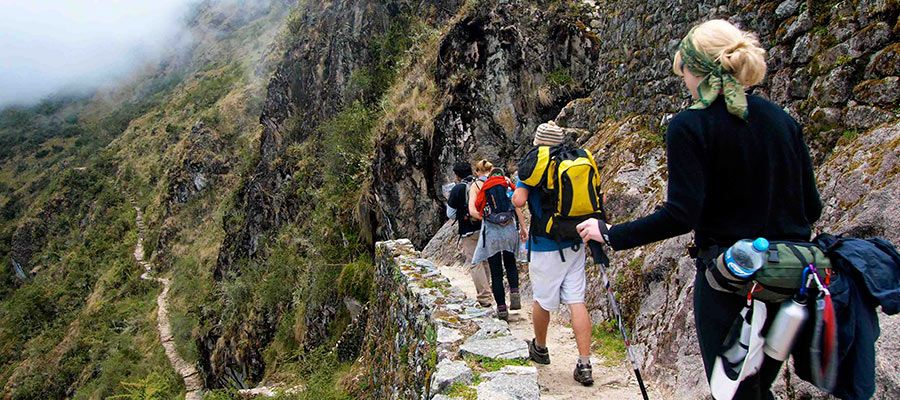 INCA TRAIL & MACHUPICCH 4 days 3 nights cusco – llactapata – Machu Picchu Home The Inca Empire, called the
Read More »
Viajei com um grupo de amigos brasileiros até o Peru por 10 dias e contratamos esta agência: pacote completo, passeios e translados. Tudo ocorreu muito bem.
Gostaria de agradecer ao Luis da Chaska Travel pelo excelente atendimento e dedicação. Ótimos passeios que valeram muito a pena! Realizamos o tour a Maras e Moray, com paisagens lindas e singulares.
O atendimento proporcionado pelo ... contribuiu para a constante alegria na nossa viagem. Muito obrigada pela atenção especial. Queremos voltar. Um abraço.
Eu conheci Luis de alguns amigos que visitaram Cusco, eu estive com minha família e decidi visitar alguns lugares e ele pegou do aeroporto com um sorriso radiante.