Rainbow Mountain Tour 1 Day
The Rainbow Mountain, known as the 7-color mountain, colorful mountain, is a magical place, where was part of the ancient Quechua culture, in the past was used for exchange products. Today it has become a natural wonder very visited by tourists from all over the world. If you come to Peru, don´t miss the rainbow Mountain, mountain of the 7 colors.     
| DURATION: | 1 Day |
| --- | --- |
| TIME: | Departure 03:30 a.m. return 06:30 p.m. |
| TRIP STYLE: | Cultural Walks |
| MINIMUM GROUP: | 2 people |
| DEPARTURES | Daily |
Very early, around 4:00 in the morning. We will pick you up at your hotel in Cusco, so we can travel to Cusipata, where we will have a delicious breakfast prepared by our chef. After breakfast we will continue traveling, we will take 1 hour to 2 hours to arrive in Fenal de Chillihuani in the province Cusitata Quispicanchis. Place where we start the walk to colorful rainbow mountain, we will take around 1.30 to 2 hours approximately until we will reach the rainbow mountain. Every tourist that arrives in the city of Cusco wants to know this fabulous mountain of the seven colors. Today we had the easiest and short route that is the Cusipata – Phulawasipata walk. You will enjoy breathtaking views of the Andes, such as glacial peaks, and others colorful mountains. We will have time to take photos of these wonderful places. Then we will descend back to the point of departure that is Fenal de Chillihuani, where we will take tourist transport to Cusipata where we will have lunch, finally we will return to Cusco, arriving at approximately 6:00 pm.
Return option with the Red Valley
YOU HAVE TWO return options. If you like you can return by the same trail that you took to climb to the rainbow mountain OR you can do something more interesting is return by the RED VALLEY, if you want to return by the red valley our guide will accompany you, It is a walk of about 2 hours back to the car but you will have the opportunity to enjoy wonderful landscapes especially if the weather is in your favor. Once everybody meet at the car stop will return to Cusipata for a deserved lunch and then 2 hours by car to return to Cusco, usually we get back to Cusco around 6:30 p.m. Note: This Tour will have an extra cost of $ 15.
You can you choose one of these 2 options Tari fas expressed in USD – US dollars per person:
| Shared service (groups of 25 people) | USD 40.00 |
| --- | --- |
| Private service (minimum 02 people) | USD 180.00 |
APPLY FOR ALTERNATIVE TOURS
The cost of the tour packages is based on two people in private service .
For more information you can write us to the mail info@chaskatravelperu.com
Foreign tourists with  valid university card get a discount of 20% of the cost of the excursion.
Special discounts for groups more than "05 people" For more information write to us info@chaskatravelperu.com
Please complete the form below to request a reservation. One of our Trip Coordinators will contact you, often within two business hours, to confirm availability of the trip and/or provide you with other options. Once availability is established, we will ask for a deposit and a completed online registration to confirm your spot Please call us at (+51) 974401722 with any questions or to confirm availability over the phone.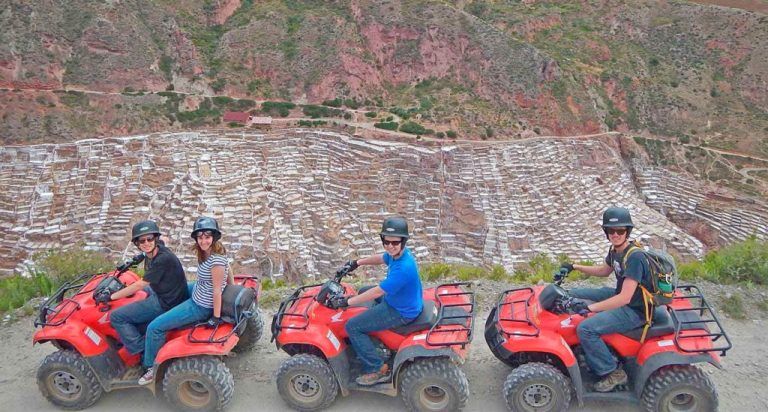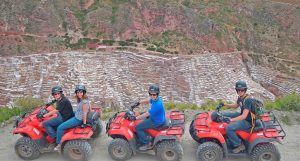 Maras & Moray Tour – Atv Tour Half Day Cusco – Maras – Moray Home Come and enjoy an exciting
Read More »
Viajei com um grupo de amigos brasileiros até o Peru por 10 dias e contratamos esta agência: pacote completo, passeios e translados. Tudo ocorreu muito bem.
Gostaria de agradecer ao Luis da Chaska Travel pelo excelente atendimento e dedicação. Ótimos passeios que valeram muito a pena! Realizamos o tour a Maras e Moray, com paisagens lindas e singulares.
O atendimento proporcionado pelo ... contribuiu para a constante alegria na nossa viagem. Muito obrigada pela atenção especial. Queremos voltar. Um abraço.
Eu conheci Luis de alguns amigos que visitaram Cusco, eu estive com minha família e decidi visitar alguns lugares e ele pegou do aeroporto com um sorriso radiante.